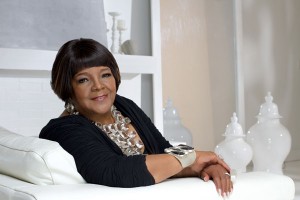 On a Sunday morning in Raleigh, a small woman with a big voice leads dozens of people praying and swaying in a service that is half-spoken, half-sung and goes on well into the afternoon. Pastor Shirley Caesar, the reigning Queen of Gospel, is preaching the Word.
Mount Calvary Word of Faith Church, with a congregation of about 1,500 people, is in Raleigh, but it's Durham that holds the pastor's heart. "Durham is home," she says. "Not was, but is. Durham is my home. I was born here, went to school here, got in trouble here. Durham is home."
And Durham is grateful: Pastor Caesar, winner of 11 Grammy Awards for her gospel music, will be honored for her life's work in service of the city at the Durham Convention & Visitors Bureau's annual tribute luncheon on April 24.
Caesar was born in 1938, when "the tobacco factories were blooming," she remembers. "As a child growing up, we still had dirt streets. And potholes." She remembers being carried to church; church has been one constant in Caesar's life, and singing has been the other.
Caesar's father, Big Jim Caesar, was a gifted gospel singer. He died when Shirley was still a child, leaving behind her handicapped mother and 11 other children. Times were incredibly difficult, but Caesar says she had a wonderful childhood nonetheless, immersed in church and family life. "My brothers, they had quartets … we were just like chips from my father's tree," she says. "It was marvelous. Pretty much all of the Caesar side of my family are singers, either singers or preachers."
To hear her tell it, Shirley Caesar has never experienced adversity: from getting a whipping to being hungry and penniless in a strange town, it's been "a blessing in disguise" to her.
"Mama told me and my sister Anne to wash the dishes," Caesar says. "I didn't want to do it, I said I'm not going to put that water on my hands. Got in trouble. After we'd gotten that whipping, I would wash and Anne would dry. We knew nothing about having air conditioners then, all we had was the big window. So, when we had the windows up, our voices just penetrated the atmosphere, into the hearts and the homes of people and passersby."
Baby Shirley Caesar, as she came to be known, would sing from then on, every chance she got, traveling on weekends to churches all over the Carolinas and Virginia. In 1957, when Caesar was 19, the premier gospel group The Caravans, headed by gospel music icon Albertina Walker, came through North Carolina to perform. Noting that the group needed a fourth singer to form a quartet, Caesar followed The Caravans to a show in Kinston. "I felt in my spirit that if Albertina Walker heard me sing," she says, "she would want me in her group."
Caesar wrote a request on a piece of paper: "Please call on Shirley Caesar to sing a solo." Walker did call on Caesar; she sang her solo, Thomas A. Dorsey's "The Lord Will Make a Way Somehow." Walker was so impressed with Caesar's performance that she asked her friend the Rev. C.L. Franklin (father of Aretha) to ask Caesar's mother for permission for her daughter to travel with The Caravans.
Having finished her first year at North Carolina College (now N.C. Central University) and unable to afford tuition for the next one, Caesar said, "I sold my biology book and caught a bus to D.C.," where The Caravans joined her the next day. Thus began her singing career and her new life on the road.
"We have far more fond memories than we do bad memories," Caesar says of touring with The Caravans and other gospel groups. She recalls singing in venues such as the Apollo, Madison Square Garden, the Grand Ole Opry, Radio City Music Hall. In Kentucky, which Caesar knew was the Bluegrass state, she looked for grass "the color of the sky or a robin's egg."
To anyone else, Caesar's bad memories would be spirit-crushing. "There have been times when I've gone to cities to sing, and while we were singing the promoter would just skip with the money," she says. She remembers being lonely, broke and hungry, occasionally, while traveling on the road; even groups as well known as The Caravans were not well paid.
"Racial discrimination kept us out of the more decent hotels and restaurants," Caesar writes in her autobiography, The Lady, the Melody and the Word, "but even if it hadn't, it wouldn't have mattered. We didn't have the money to stay in the nicer places anyway."
After eight years with The Caravans, during which, Caesar notes proudly, she never missed a single show, she decided that it was time to go solo. She wanted to minister God's word, she says, and her packed schedule with The Caravans didn't allow for that. Caesar took to the road herself, singing and preaching all over the country. She won her first Grammy in 1970. She's released more than 20 albums and a dozen singles, including one in 1984 with Al Green, "Sailin' on the Sea of Your Love."
A Thanksgiving in Florida inspired Caesar's next move. "My plate was just voluptuously fixed, ready for me to dive headfirst into, and I was watching the news. I was watching how right in our neighboring state, Tennessee, I saw little boys and girls, little kids, with pot bellies looking like kids from Africa because they had no food, starving. Tennessee! While I'm sitting there eating, I heard the Lord whisper in my ear and say 'Feed my sheep.' By that time, I'd put my fork down and I said Lord, I'm doing that."
Caesar implemented the Shirley Caesar Outreach Ministries in Durham in 1969, "to provide food, clothing, shelter and emergency funds to the underprivileged and needy," she writes in her autobiography. "There is also a viable Christian outreach component consisting of radio broadcasting, revivals, crusades and gospel concerts. Our primary purpose is to minister to the total man which includes both his physical and spiritual welfare."
Corey Bizzell, sales director at the Durham Convention & Visitors Bureau and a former employee of Outreach Ministries, says the organization was the first of its kind in the country. "Everybody patterned themselves after Shirley Caesar Outreach Ministries," he says. "When it started, nobody in Durham was doing that. Nobody was feeding the hungry on a large scale like that."
Outreach Ministries became a certified nonprofit in 1981, and now it operates in Raleigh as well as Durham. Caesar is still very much involved with the day-to-day running of the organization, says Bizzell. "It has been funded all these years by 50 percent of Pastor Caesar's concert sales. No grants. The other fundraiser is an annual conference in July, which started at the Durham Armory. Pastor Caesar brought people into Durham for years."
In 1981, Caesar enrolled at Shaw University to study business administration while continuing to record award-winning gospel albums. She graduated magna cum laude ("Thank you, Lawdy!" she says) in 1984, the year after she married Bishop Harold Ivory Williams. Bishop Williams, whom Caesar had met at a ministerial function in Durham, is a senior bishop in the Mount Calvary Holy Churches of America, her denomination since childhood.
Pastor Caesar decided to run for an open seat on the Durham City Council in 1987. Though she faced discouragement—people told her politics and religion don't mix and that a political campaign could hurt her singing career—Caesar says she wanted to give back to the community that has given her so much. Campaigning, too, was difficult and discouraging at times, but Caesar won the endorsement of several prominent political action groups in Durham.
Among Caesar's supporters was Paige Chargois, another female minister and chaplain at N.C. Central from 1986 to 1990, who became Caesar's campaign co-chairwoman. "We put a lot of effort in," Chargois says. "It was a jubilant campaign. The community knew her beneath the surface, they knew she wasn't a superficial politician but a genuine, caring person. She's given so much. She asked me if I thought she could win. I can't remember what I said to her, but she said from that moment, she had no doubt she would win."
Win she did, and Caesar served for four years. She was determined to fulfill her campaign promises and fought to bring jobs to Durham, to provide affordable housing for seniors, to promote business in downtown Durham and to bring more industry to the city overall. "My years on the city council were wonderful," Caesar says. "I'm grateful to have had that experience. Everybody on there had gone to college, I mean, they had all kinds of degrees. I'm so glad that I went back to school and got my degree, because I did not want to be the lowest one on the totem pole. I was able to input intelligently, and I'm glad that I was able to vote to put wonderful practices into place."
In 1990, Caesar accepted the pastorate of the Raleigh Mount Calvary Word of Faith Church, where she preaches the Word to this day. She has also spent time studying at the Duke University School of Divinity. Shirley Caesar Outreach Ministries is still an invaluable resource for families in Durham and Raleigh.
"For the Christmas and Thanksgiving giveaways, the annual big signature events, hundreds and hundreds of families come through, about five or six hundred families at least, come through," says Bizzell. "During the year, she may be providing shelter for one family, or one family's lights may be getting ready to get cut off, but the thing about Shirley Caesar Outreach Ministries is, before you can get a check, you're not only given counsel on how to better manage your finances but she's giving spiritual counsel also."
The Triangle, and Durham in particular, are becoming increasingly well-known destinations for gospel. "You're talking about a Bible belt, and gospel radio and television are really infiltrating our whole area," says Caesar. "I'm so grateful that I can represent Durham from a standpoint of a gospel singer because now, we have some powerful gospel singers all over our state, and especially here in the Triangle. And good churches too."
It is likely that Caesar will represent Durham for a long time yet. Her pride and work ethic are unmatched. Caesar's colleague and close friend Carolyn Sanders says, "She can be ever so tired. She has come into services from traveling from the West Coast to the East Coast on the redeye, and be dog tired. You put her in the pulpit and give her the microphone and it's like heaven and hell."
"Something just wakes up in my spirit," Caesar says. "All you have to do is just put a mic in my hand and point the way. The Word motivates me, it really does. I said Lord, if you just put the Word in my mouth, I'll say it. I'll say it."
This article appeared in print with the headline "As good as her word."
(Curtsey of www.indyweek.com)
Comments
comments